GIS icon theme version 0.1
This page presents current icons list, but not ordered yet.

area-measure

attributes-display

attribute-show

cats-copy

cats-display

centroid-create

crs-change

content-move

countours-from-dem

create
Edit

edit

edit-copy

edit-cut

edit-paste

element-add

element-delete

element-move

erase

font
GCP

gcp

gcp-add

gcp-create

gcp-delete

gcp-remove

gcp-rms

gcp-save

georectify

group

help-contents

hide

identify

image-add

image-export
info

interpolate

island

island-add

island-delete

item-move

label-add
Layer

layer

layer-add

layer-aspect-arrow-add

layer-cell-cats-add

layer-command-add

layer-create

layer-db

layer-db-add

layer-delete

layer-edit

layer-export

layer-gps

layer-grid-add.png

layer-group-add

layer-his-add

layer-import

layer-label-add

layer-more

layer-open

layer-raster

layer-raster3d-add

layer-raster-add

layer-raster-analyze

layer-raster-histogram

layer-raster-more

layer-raster-profile

layer-raster-profile-redraw

layer-redraw

layer-remove

layer-rgb-add

layer-save

layer-shaded-relief-add

layer-sqlite-add

layer_to_preview_add

layer-vector

layer-vector-add

layer-vector-chart-add

layer-vector-create

layer-vector-more

layer-vector-thematic-add

layer-wms-add

layer-wfs-add

layer-wcs-add

layer-wps-add

legend-add

length-measure
Line

line

line-create

line-delete

line-edit

line-move

line-polygon-edit

line-split
Map

map

map-add

map-create

map-delete

map-edit

map-export

map-extent-info

google-map

map-import

map-open

map-redraw

map-reference

map-remove

map-save
Mapset

mapset

mapset-add

mapset-create

mapset-delete

mapset-edit

mapset-export

mapset-import

mapset-open

mapset-remove

mapset-save
Other

measure

merge

monitor

monitor-create

monitor-erase

move

nearblack

open

open1

options

overlay-add

pan

pdf-export

point

point-create

pointer

polygon

polygon-create

polygons-from-raster

print

quit

raster-distance

raster-fill

raster-transform

rasterize

raster-sieve-filter

redo

redraw

region

reload

ring

ring-add

ring-delete

save

save1

save-as

save-as1

scale-bar-add

search

select

selected-delete

settings

show

simplify

split

svg-export

table

text-add

tips

tools

undo

ungroup

vector-create

vertex

vertex-create

vertex-delete

vertex-move

vertex-tools

view

view-create

VRT
Zoom

zoom-in

zoom-out

zoom-layer

zoom-extent

zoom-last

zoom-next

zoom-point

zoom-refresh

zoom-region

zoom-selection
Request icon
Please, just send me e-mail with your request and I will add it to list.
You are also welcome to OGGeo Graphics mailing list for discussion.
Todo list
Sandbox
License

GIS icons by Robert Szczepanek is licensed under a Creative Commons Attribution-Share Alike 3.0 Unported License. Feel free to use it in any GIS software or for other purposes. I only ask you to let me know about that and to include licence.txt file in your work.
Design guidelines
GIS icon theme is designed mainly for GIS applications. It is intended to be open and free alternative for existing GIS icon sets. Design was inspired mainly by Tango Desktop Project.
Tools
Inkscape 0.46 was the only design tool I used. Except pencil and paper.
How to work with Inkscape.
Set the canvas size to 24x24 pixels. Add grid with 1px step. When drawing elements you should take into consideration how Inkscape renders images.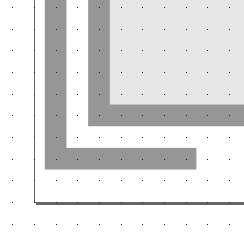 Usually drawing we snap vertex to grid nodes,

but this results in blur image.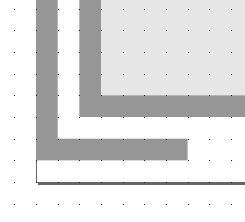 When we move objects just by 0,5px,

image becomes sharp.
And this is a reason why it is not possible to scale vector graphics between some small sizes. We just have to know icon size a priori. When designing GIS icons which are small size, sharp images are preferable. Downscaling of very nice, 3D vector graphics is just not working. Too many small details result in image bluring.
Colors
GIS icons palette is less saturated than Tango, but both looks very similar.

GIS icons palette

Tango palette
Download GIS icons palette in Inkscape format and save it in ... directory. Tango palette is installed with Inkscape and ready after instalation.
Colors from both palettes are used mainly when bigger areas have to be filled up, so you can use any appropriate color for smaller details.
Icon size
Perspective type
Naming convention
My intention is to follow Icon Naming Specification and supplement it with FOSS4G terms.
Depending on term complexity, three general types of file name are applied:
object
action
object-action
Most of icons follow object-action type.